Our Local Group

Re-launched in 2010, we're based in the London Borough of Havering, some 20km to the east of the City, and bordering the county of Essex. Over half of Havering is "Green Belt" land, and we're determined to protect the whole area against overdevelopment and pollution of the skies, the rivers, the soil, and the air we breathe.
We're active with national campaigns such as the Bee Cause, with a particular emphasis on pollinator-friendly gardening and planting, and reducing the use of pesticides. Locally, we're pushing for more recycling, better air quality, and a halt to the erosion of green spaces by overdevelopment and so-called landfill "improvements". We have regular meetings with the Council and often feature in local press and media.
Why not come along and share your ideas to help the planet?
Our Monthly Meetings
Please note: owing to the coronavirus outbreak, our usual meeting schedule has been suspended. Check our home page for updates.
If and when circumstances permit, we'll resume meetings at 7.30pm on the third Tuesday of the month, in Room 9 at Fairkytes, 51 Billet Lane, Hornchurch RM11 1AX. Newcomers are welcome to attend one or two free meetings before deciding whether to join the group. There's a half-time break for tea and chat, and we aim to finish by 9.30pm.
How to get to Fairkytes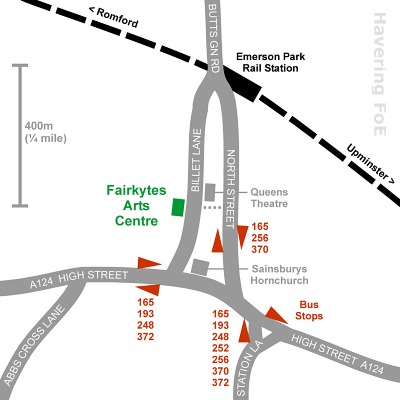 By bus: From the "Billet Lane" stops in Hornchurch High Street (165, 193, 248, 372), walk up Billet Lane; Fairkytes is on the left. From the "Queens Theatre" stops in North Street (165, 256, 370), take the footpath by the theatre, to Billet Lane. From the "Hornchurch Town Centre" stops (165, 193, 248, 252, 256, 370, 372), walk up North Street then take the footpath by the theatre, to Billet Lane.
By train: Trains to Emerson Park depart from Upminster at 25 and 55 minutes past the hour, or from Romford at 11 and 41 minutes past the hour. At the road, turn left, cross the bridge and take the right fork (Billet Lane); Fairkytes is on the right. If you plan to return the same way, check the last train times!