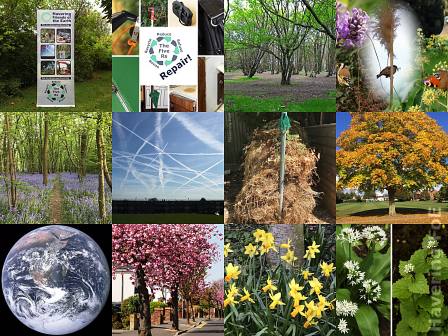 May 2023: Over the past 18 months, our members have contributed to a regular community column in the Romford Recorder newspaper. You can now read all of our articles on this site, by following the Articles link on the menu bar above.
ULEZ-vous?
February 2023: The proposed extension of the Ultra Low Emission Zone (ULEZ) to include outer London boroughs has proved divisive, to say the least. Even within HFoE there are differences of opinion, but it's fair to say we're united in wanting to breathe cleaner air.
Our group has joined the debate in local press and media, and met with council representatives to correct a popular misconception that ULEZ is about combatting climate change. Rather, we stressed that the measures are intended to improve public health, by reducing air pollution by nitrogen oxides (NOX) and particulate matter, emitted largely by older diesel-engined vehicles. The reduction of greenhouse gases such as CO2 is a separate - albeit crucially important - issue. Toxic air is especially hazardous to children and older people, and those with chronic lung diseases such as asthma. It is known to cause thousands of premature deaths each year in London, with Havering among the worst affected as it has a high elderly population.
Ultimately, schemes like ULEZ should speed up the replacement of combustion engines with electric motors, powered by batteries or hydrogen fuel cells. But objectors rightly point out that this won't happen until the cost of electric vehicle (EV) ownership comes down significantly - perhaps with more generous subsidies, trade-in options and tax incentives. And a drastic expansion of public EV charging points is needed - it's shameful that Havering has reportedly [as of October 2022] installed none at all, making it the worst performing London borough in this respect.
News
Back in business!
We were grateful to Havering Green Streets for a pitch at their Eco Fayre on Sunday 30 April. This event, postponed from last November, was held in the courtyard at Langtons Gardens, Hornchurch. We met a great many visitors and exhibitors from other groups, and very much hope this will become a regular event.
Vegetation, vegetation, vegetation
Early in 2022, we supported residents in a campaign to halt Network Rail's wholesale destruction of trackside vegetation - including mature trees - along the Romford-Upminster and Romford-Gidea Park lines. Following meetings and a petition, they scaled back their operations significantly. We continue to monitor the situation.
Ready to roll!
After many months of discussions and refinements to the design, we're pleased to say that our new Roller Banner is ready for the road. We hope it will draw attention to our presence at street stalls and other events, and that our pentagonal variant of the familiar recycling symbol will prompt discussions about other ways to conserve resources, which we've always promoted ahead of the "last resort" of recycling materials.
Climate change

We took a close look at the Council's new Climate Action Plan. Despite encouraging noises from them in the press (including some kind words about our local group), we feel that their plan should put more emphasis on preventing climate change, rather than just adapting to it. As with previous issues such as air pollution, we need to move forward beyond monitoring and measuring (the easy bits!) toward actively planning, budgeting for, and implementing changes to reduce our Borough's carbon footprint.
Glyphosate

Together with other environmental groups, we've been putting pressure on Havering Council and its contractor to stop routinely spraying Glyphosate-based weedkiller on roadsides and pavements. We believe this chemical, which is thought to cause cancer, poses a risk to both people and wildlife. This started a wider debate about alternative methods to control weeds, and whether in some cases it would be better to accept and enjoy a natural carpet of attractive and beneficial wildflowers.
Meetings
We've decided not to restart indoor activities such as meetings and talks until a majority of our members feel comfortable with attending them. In the meantime, we've held some meetings online, and a couple of outdoor ones at Langtons, a stone's throw from our traditional venue at Fairkytes. If and when we return to our original meeting schedule, it will of course be announced on this website.